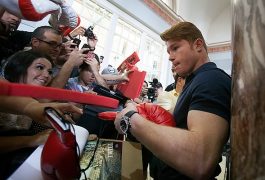 On Cinco de Mayo weekend, lineal middleweight champion Saul 'Canelo' Alvarez will face elite-level welterweight Amir Khan.
Alvarez's WBC and RING Magazine titles will be at stake, and the pair will fight at a negotiated catchweight of 155 lbs.
"As the middleweight champion of the world, I will take on the best fighters in the sport, and on Cinco de Mayo weekend, I look forward to making the first defense of my titles," Alvarez said. "Amir was a decorated amateur, a two-time world champion and is in the prime of his career. Fans are in for a great fight on May 7."
So how will Canelo vs Khan perform at the box office?
Last fall, Canelo's PPV showdown with fight legend Miguel Cotto generated 900,000 buys and $58 Million in revenue. Not since Tyson vs Lewis (2002) had a pay-per-view fight generated at least 900,000 buys without featuring Floyd Mayweather, Manny Pacquiao or Oscar De La Hoya.
Although Khan may not have the drawing power in the States that Cotto enjoys, look for Canelo vs Khan to generate at least as many PPV buys (900,000) as Cotto vs Canelo because it's taking place on Cinco de Mayo weekend, the hottest piece of calendar real estate in boxing. Proper timing should make up for the presumed gap in popularity between Cotto and Khan, stateside.
Moreover, boxing won't have to compete with the mega popular NFL for sports headlines.
And from a standpoint of gross revenue, May's fight should easily eclipse November's due to Khan's massive international following. Viewership in the UK and, perhaps, Pakistan will be far heavier than Puerto Rican viewership was for Cotto vs Canelo.
How popular is Khan internationally?
… He has 3.8 million Facebook followers while Cotto has just over 800,000.
Perhaps the ultimate question as it relates to PPV numbers and revenue is: How many of those followers will pay to see Amir Khan partake in the biggest fight of his career?